Long term investing in conservation is the approach to sustainable tourism while protecting, engaging, inspiring and learning as climate changes, people evolve, economies ebb and flow and life continues.  
Long term investing & nurturing in the future of place and environment = a realistic approach by taking the long view
Leaders with a specific vision and talent for stimulating investment, philanthropy, social impact and profit are creating another layer of tourism that engages the traveler beyond their own private journey. Tourism is a holistic venture where collaboration, capital, innovation, community, patience and heritage will support the benefits that only travel can provide.  Capital and vision will help preserve some of the most sensitive and breathtaking corners of the planet and this post highlights a few visionaries making an impact on tourism from New Mexico to South Africa. This post has a few snapshots of Luke Bailes, CEO Singita, Sonu Shavdasini, CEO & Chairman Soneva Group, Louis Bacon, Moore Capital Management, Ted Turner, Turner Enterprises and Richard Branson have taken corners of the globe under their wing to share, preserve and sustain through passion, capital and taking the long view.  I will be taking my first trip to Africa where I will learn about other visionaries on a smaller scale in South Africa and Botswana and look forward to bringing their legacies, journeys, experiences into my own narrative.

The Take Away Tourism + Saving The World Through investing in place, people, time and experience
= A Long Term Strategy with a lot of vision
South Africa - Luke Bailes CEO Singita  
See  How Africa's Most Luxurious Safari Camps Are Championing Conservation
As the world's human population continues its exponential growth, the loss of pristine wilderness is taking place at an ever-accelerating rate, to counteract this Singita is making a profound difference in many parts of Africa.

Orchestrating an interdependent relationship between communities, wildlife and tourism that ensures true sustainability, Singita is blazing a trail which is seldom achieved on this scale anywhere else on the continent.



Courtesy of Blue Marble - UK                                      
Here, Luke shares his thoughts on falling in love with Africa, the benefits of a long-term plan and helpful billionaires...

Q: What was the genesis for Singita and what propelled you to commit to such an ambitious concept?

In the early days there were fantastic wildlife experiences on offer but very few complimentary hospitality experiences. Matching the two was our goal when we started Singita. We quickly realised over the years, that wildlife and pristine wilderness was under threat due to increased population growth and so over time the emphasis has completely shifted to preserving at-risk areas and working in partnership with local communities.

Singita is unusual in that you consider a very long term horizon when setting strategy and objectives. Can you explain the approach behind your "100 year plan"?

"One of our concerns is that businesses have become so driven by greed and short-term profit that it impacts on strategy and decision-making, which ultimately impacts on the health of the business. Our approach is totally opposite – we don't look at the short-term. Our primary objective is to preserve and protect large tracts of land in Africa for future generations and everything we do supports that. Ironically when you do things properly and well, profits take care of themselves and this gives us the wherewithal to do what we do.
Singita's 100 Year Vision from Singita on Vimeo.
 Louis Bacon is a conservation philanthropist who has spent more than two decades supporting efforts to protect natural resources in the United States and abroad. Louis Bacon is a conservation philanthropist who has spent more than two decades supporting efforts to protect natural resources in the United States and abroad. 
 Bacon is the Founder and Chairman of The Moore Charitable Foundation, Inc. ("MCF") and its affiliate foundations across North America, spanning southern Colorado, northern New Mexico, eastern North Carolina, The Bahamas, Panama and Long Island, New York. Mr. Bacon founded The Moore Charitable Foundation in 1992. The Foundation works with conservation experts and leaders and has provided significant funding to more than 200 local, national and international environmental organizations.


In 2012, he gave 90,000 acres to the federal government as a conservation easement, and created the Trinchera Blanca Foundation to permanently protect 167,000 of the 171,400 acres of his Trinchera Blanca Ranch, expanding the Sangre de Cristo Conservation Area bordering the San Luis Valley in Colorado, and placed his 20,000 acre Tercio Ranch in a conservation easement as well. Prior to that, he'd also made significant contributions to conservation projects in his childhood home of North Carolina, on Long Island, New York, and in the Bahamas.
 Taos Ski Valley - Bacon Regenerates a Slow Tough Mountain and delicately handles the locals and the essence of the place.

Now, it appears as though Bacon has turned his eyes toward Taos, New Mexico. Having owned property there since 1996, Bacon had worked with the previous owners of the Taos Ski Valley, the Blake Family, to develop a master plan for renovating the aging ski resort that was ultimately approved by the forest service in 2012. The family, which had been seeing tourism decline, had wanted to make improvements for a long time, but could not afford them without risking the ability to pay their employees.

It was Bacon's conservation ethic, as well as his willingness to work with the family, that Led the Blakes to offer to sell him the property. "We believe Louis is the right person to ensure a viable future for the ski valley and that his ownership will be beneficial to our employees, Taos' residents and guests," said Mickey Blake in a statement. "I'm in mourning a little bit but I realize this is really a good thing for the ski area," said Adriana Blake.

Bacon is dedicated to "advancing the Blake family vision and legacy of Taos Ski Valley by continuing to provide an unmatched skiing experience while serving as an economic driver for northern New Mexico," according to his spokesman Peter Talty. And his commitment to conservation also has environmental protection groups in New Mexico looking to him to help further local conservation efforts. If history is any indicator, these groups may not have to wait long—his deal with the federal government for conservation easements in Colorado took just two years from genesis to completion.
 " Our theory is that a new luxury is emerging based on what is now missing in everyday life: nature, sustainability and good health. This is why our resorts win so many awards and have been so successful, as we try to inspire a lifetime of rare experiences."
Sonu Shivdasani is one of the founders of The Soneva Foundation and is Chairman and CEO of Soneva Resorts & Residences and founded Six Senses Resorts & Spas. For nearly 20 years Sonu and his wife, Eva, have created the template for sustainable tourism, coining the concepts of SLOW LIFE and intelligent luxury which recognises the ability for luxury holiday making and care for the environment to co-exist with perfect ease.
Sonu Shivdasani: We question and challenge what luxury is for the wealthy today. In the past, the wealthy were rural landed gentry and the language of luxury was that which was rare for them: dressing up, four piece bands, gold, crystal chandeliers… because that offered them a change from their daily life which was about nature and space. 
It's estimated that the hospitality industry benefits the richest 20-30% of the planet, at the expense of the poorest 70-80%. We as an industry consume more than our fair share of resources. However, resorts and hotels are often central to a community, so we have the ability to raise awareness and change consciousness. We are in a position to encourage, utilise, and even mobilise our wealthy and collectively powerful patrons. 
What motivates Soneva's sustainability efforts, which focus not just on reducing your impacts, but on also ensuring you make a positive contribution to society and to environmental restoration?

Hoteliers must continue to work together to find ways to cause less "harm" and do more "good". Companies must become 'solutions' rather than 'problems'. I believe that in all our businesses we can make small changes to our business model, which has no negative impacts on our profitability or our guests' perception of our products. Today it is the other way around: the wealthy live in their air-conditioned urban boxes, get around in their German car boxes, eat in designer restaurants with signature imported foods cooked by celebrity chefs, etc. Those things are no longer rare. They have become common place for the wealthy, global citizen. 
The foundation has so far raised almost US$ 6 million from the environmental levy, which is fantastic considering we are a small group of resorts. What is noteworthy is that this amount of capital for good causes has not been raised by blind donations but as a result of tweaking our business model.

We have used this money to fund a forest restoration programme in northern Thailand where we have planted around half a million trees to mitigate 255,000 tonnes of CO2. The money has also funded a windmill in South India. The foundation is also using the money we raise to provide heavily subsidised cooking stoves in Myanmar and Darfur benefiting around 180,000 people to date. You can see that with the most incremental of changes, a company can do an extraordinary amount of good without negatively affecting business aims.

We see that our guests respond very well to our sustainable initiatives. In terms of communicating about sustainability, we have taken the approach that we minimize information on what you cannot do and focus on what positive steps we are doing. It is important to focus on the opportunities sustainability gives and that often the most luxurious experience is the most sustainable. Our guests love to visit our vegetable garden and to see that the food they eat comes straight from the ground the same day. The Fresh in the Garden restaurant, which is the only restaurant at Soneva Fushi not near the beach, is the favourite for many of our guests.  

Having said that, we also show guests who are interested the less glamorous sides, but important practices we do at our Eco Centro 'Waste-to-Wealth' facility. What we find is that they truly appreciate our efforts and are impressed that through innovative thinking we are able to see value and turn waste into an asset rather than a liability. That is exactly what sustainability is about – seeing the opportunities rather than focusing on the restrictions.
 "It's Like National Parks WIthout the Crowds" Ted Turner regarding Vermejo Par Ranch and Casa Grande
 Ted Turner - Media Mogul, Environmentalist, Eco Tour Expeditions, Philanthropist
Turner's appreciation for our beautiful Earth and its creatures runs deep, compelling him to work tirelessly to protect and conserve our environment, as well as its animal and plant species. It is through his numerous foundations, including the United Nations Foundation, Turner Foundation, Nuclear Threat Initiative and Turner Endangered Species Fund, that Turner has advanced his conservation and philanthropic efforts. Among Turner's various and considerable contributions, including his historic $1 billion gift to the United Nations, he has given over $374 million to programs for improving air and water quality, developing a sustainable energy future to protect our climate, safeguarding environmental health and protecting wildlife and habitats to maintain biodiversity.
Turner wishes to share his complete love of nature, wildlife and discovery in order to help all generations develop a keen appreciation for and awareness of what our Earth has to offer and just as importantly, a shared responsibility for the well-being of our environment. After much thoughtful consideration, Turner has established a way in which to achieve this through the launch of Ted Turner Expeditions
 "WE HAVE AN OBLIGATION AND A
PRIVILEGE TO PRESERVE AND
MAINTAIN OUR PLANET AND THE
SPECIES WE SHARE THE PLANET WITH."
TED TURNER

Richard Branson The B Team |Virgin  Group - Morocco - South Africa - Necker Island
Richard Branson - Necker Island B Team and Virgin Group
Agreement at summit hosted by Sir Richard Branson will see islands switch from expensive diesel to renewables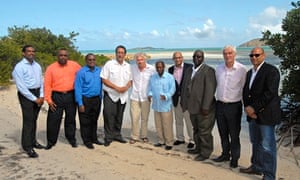 Sir Richard Branson is continuing his push for sustainable energy in the Caribbean, and the Caribbean resident is putting his money where his mouth is.

Branson has been on a drive to make his private Necker Island in the British Virgin Islands more green, following his regional call for sustainable energy development.

Branson has been perhaps the region's most high-profile advocate for green energy, working with the Carbon War Room and the Rocky Mountain Institute to help regional stakeholders identify the region's optimal energy future.

Last year, he convened a high-level regional conference on Necker that launched the "Ten Island Challenge," which called for massive investment in green energy development in signatory countries, which ranged from Aruba to Colombia.

In 2004, Richard established Virgin Unite, his non-profit foundation. It mobilises the talent and resources from across the Virgin Group and beyond, to tackle tough social and environmental problems in an entrepreneurial way. It is built on the belief that, the only way we can address the scale of the challenges facing the world today is by revolutionising the way businesses and the social sector work together – driving business as a force for good.

Richard has been working closely with Virgin Unite to bring together the right partners to help create new global leadership models to address conflict, climate change and disease.
Conservation| Philanthropy & Travel - Adventurous Philanthropists