Tenting Up Escape Artists
Where Camping and Glamour Merge Under The Stars
Why Glamp? When Camping Meets Comfortable Beds and Inspiring Luxury Tents
Why Not?
Stay In Your Own Comfort Zone & Commune With Nature
A Slow Travel Choice

A simple hillside vineyard becomes a magical weekend retreat.  A tree-lined country field becomes a romantic honeymoon getaway.  From the comfort of your zone of travel whether you are road tripping in the U.S. or exploring Europe, you lucky Europeans, keep exploring. ESPECIALLY now.   You will soon see camping in a new light ( you have the freedom to roam in comfort), and will appreciate the sensory experiences that a little bit of luxury in the open air can provide.



With Natural Benefits
What is Glamping?
Camping + Luxury = Glamorous Camping


Here you can find and connect with unique and utterly breathtaking spaces with lavish services and amenities in some of the most beautiful landscapes this planet has to offer according to:   

Shelter Your Soul in Style
Ok Not So Many settings
Shelter Co. is a pop up lodging service catering to roamers looking for an overnight outdoor experience.
The idea was born out of a love for California's diverse landscape combined with nostalgia for the days of summer camp. Shelter Co. provides fully furnished canvas tents and all necessary amenities for camping trips, pod parties, quarenteams or solo escape artists. . Our events provide the simple joys of stargazing, roasting marshmallows, and playing games without the hassles of a typical camping weekend. Depending on your unique needs, we can provide everything from furnished tents and restrooms to full service catering and activities. Your guests are able to enjoy a unique experience in even the most far flung locations with all the comforts of home.
- See more at: http://shelter-co.com/#sthash.Bo7ijVqV.dpuf
Abby Jeffords
Shares Her Winter Holiday Glamp On Slow Life
By Abby Jeffords- Editor Glamping Hub
eco structures featured glamp dwellings @ glampinghub.com



When you think about glamping (glamorous camping), images of butlers, champagne flutes, heated floors, soaking tubs and personal chefs might flash before you.  
Luxury camping can seem, for many people, to be too expensive. In reality,  it could combines the best of the natural and the magical world of innovative hotels.   It is true that the world's finest glamping accommodations tip the scales in both luxury amenities and monetary obligation, but although you certainly get what you pay for if you are lucky enough to be a guest at one of these establishments, to say that glamping, in general, is inaccessible to all is simply untrue. 
Not too long ago, my friends and I decided we wanted to take a weekend trip outside of San Francisco.  As students, our pockets were not too deep, but we wanted to indulge a bit and steer clear of dingy motels and big box hotels.  And although camping would have been the least expensive alternative, none of us was organized enough to arrange a full-scale camping trip.  We were looking for an adventure but we needed a happy medium and I do after all, write know about Glamping.
A recent article about glamping, hailed luxury camping as a mockery of true camping and something that none but the top 2% of the population could afford to do.  My friends and I were clearly not in that financial tier. In reality,glamping has an enormous range of options, in both price and accommodation style. Glamping is simply any lodging situation that allows you to get close to nature without all of the hassle of setting up your own campground.
The third option I found was Sequoia High Sierra Camp.At the highest possible end of our price range, around $250 per person per night, this spot offers a glimpse of glamping in all of its finery.  Located near both Yosemite and Kings Canyon National Parks, and with the closest parking almost a mile away, this spot would certainly attract avid hikers and travellers looking for a true outdoor experience.  But it is much more than just a campsite.  Each canvas cabin is luxuriously furnished and guests can enjoy exquisite handcrafted meals as part of their stay. 
A Glamp Site Making A Difference- Many Do  
So if you want to pretend you are Karen Blixen in Out of Africa, you actually can. The African tent safari is in a category of its own but just to whet your appetite and learn about the amazing programs they are doing for the Maasai people go to Karen Blixen Camp. Right now just for the fantasy of it, but 
Glamping Alert!!!
National Glamping Weekend in June


http://www.nationalglampingweekend.com/
 7 Cushy Glamping Spots in California by Mary Forgione 
Glamping links that will get you outside 
UPDATED RESOURCE CHECK THIS SITE OUT FOR ALL OF YOUR NEEDS 2020 Guide to Glamping Needs photo below and link here :Tentsntrees.com https://tentsntrees.com/campers-guide-to-glamping/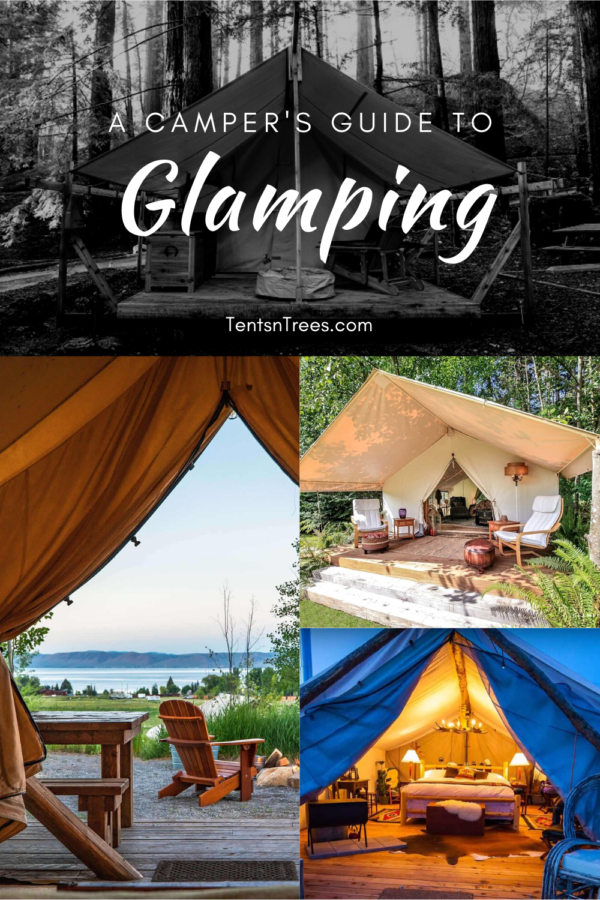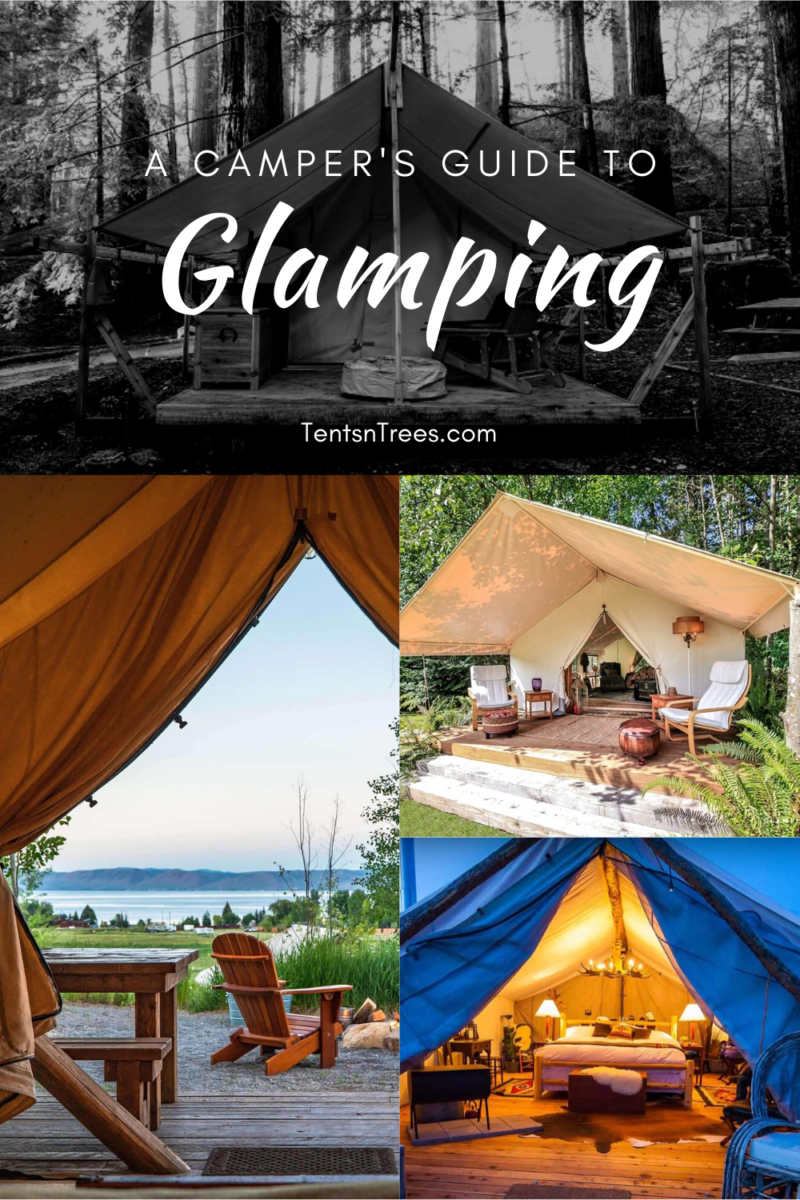 Glamping Categories- aggregated glamp sites and types around the world
http://www.nationalglampingweekend.com/
http://www.glamorouscampingco.com/
Glamping In The Vineyard
lecamp.co.uk/ -Very French
www.wanderlusthospitality.com/